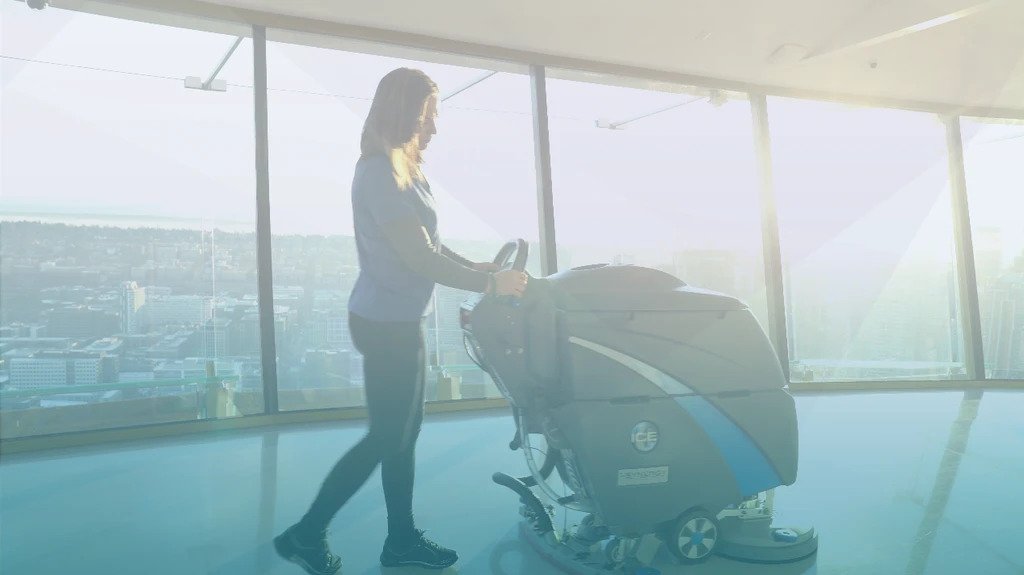 Industries across the globe are incorporating automation into everyday processes and incorporating automated machinery with their current staff, particularly within facility maintenance departments in colleges and universities across the U.S. For example, a shift to using collaborative robotic ("co-bot") vacuums and scrubbers to share work with people can positively influence many areas of your institution, including productivity, effectiveness, and also the bottom-line. For these reasons, and many more, incorporating automated cleaning machines, like Industrial Cleaning Equipment (ICE's) Enabling Mobile Machine Automation Scrubber (EMMA) or i-Synergy cleaning equipment, into the workflow system augments already hardworking staff and allows them to focus on other more valuable, intricate, and detailed tasks that no automated machine could possibly complete. Let's look closer at how this cleaning equipment technology can be incorporated and used within your institution.
Meet EMMA, RS26 AU Scrubber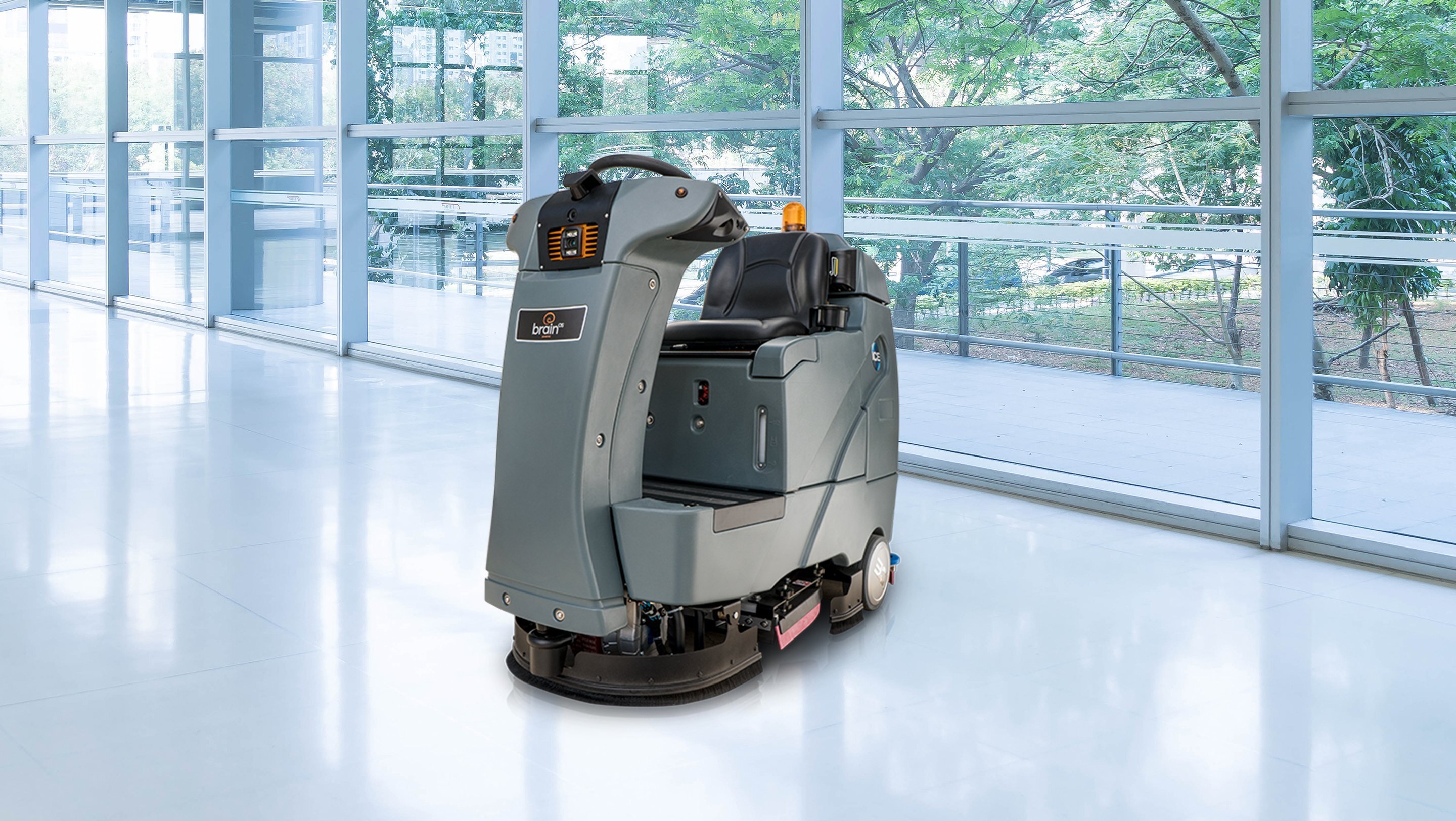 EMMA is ICE's cutting-edge, top-of-the-line autonomous industrial floor scrubber, with a comprehensive yet user-friendly operating system. EMMA is an all-around efficient and effective automated floor care machine and includes the innovative Brain Operating System®. ICE's EMMA is complex, yet extremely simple to use. Everyone can relate to the excitement of searching for, purchasing, and receiving a new piece of equipment, loaded with the latest and greatest technology, especially one that will enhance your business and save time and money, like EMMA.
Right Out of the Box
EMMA works like a robot right out of the box. It is easy to set up and has many programming options, which, in the past, would have taken a couple of engineers and several thousand dollars to accomplish. But, with ICE's leading technology, the days of allocating resources for engineers, programming, maintenance, and support are just that: a thing of the past. EMMA can be programmed to navigate specific routes and configurations, such as a figure-eight or a curve. This type of complexity is important because real-world environments are not open, flat, and empty, they are complex and dynamic.
 Brain Operating System®
EMMA comes fully equipped with the innovative Brain Operating System® which consists of practical Artificial Intelligence (AI) technology that allows programming of up to 60 customized routes. The easy-to-use dashboard, which is on the front of the machine, allows users to:
Program a route
Choose a programmed route
Request a report
Deploy diagnostics
Pair with a device
View training videos
Access troubleshooting resources
Learning about and using EMMA is straightforward, quick, and right at your fingertips. What's more is the cloud-based operating data center, which can be accessed to view important machine and usage analytics.
 Cloud Robotics & Reporting & Data
The Robot Operations Center (ROC) provides machine function and usage insight, as well as alerts and automatic software updates. EMMA's detailed reports assist in tracking key performance indicators across your entire fleet.
Each piece of data the machine gathers is a valuable glimpse into:
How EMMA has been deployed by users (% of manual vs. automated use)
Which routes have been cleaned
Square footage the machine has traversed
Operating time
Route heat maps
Battery-life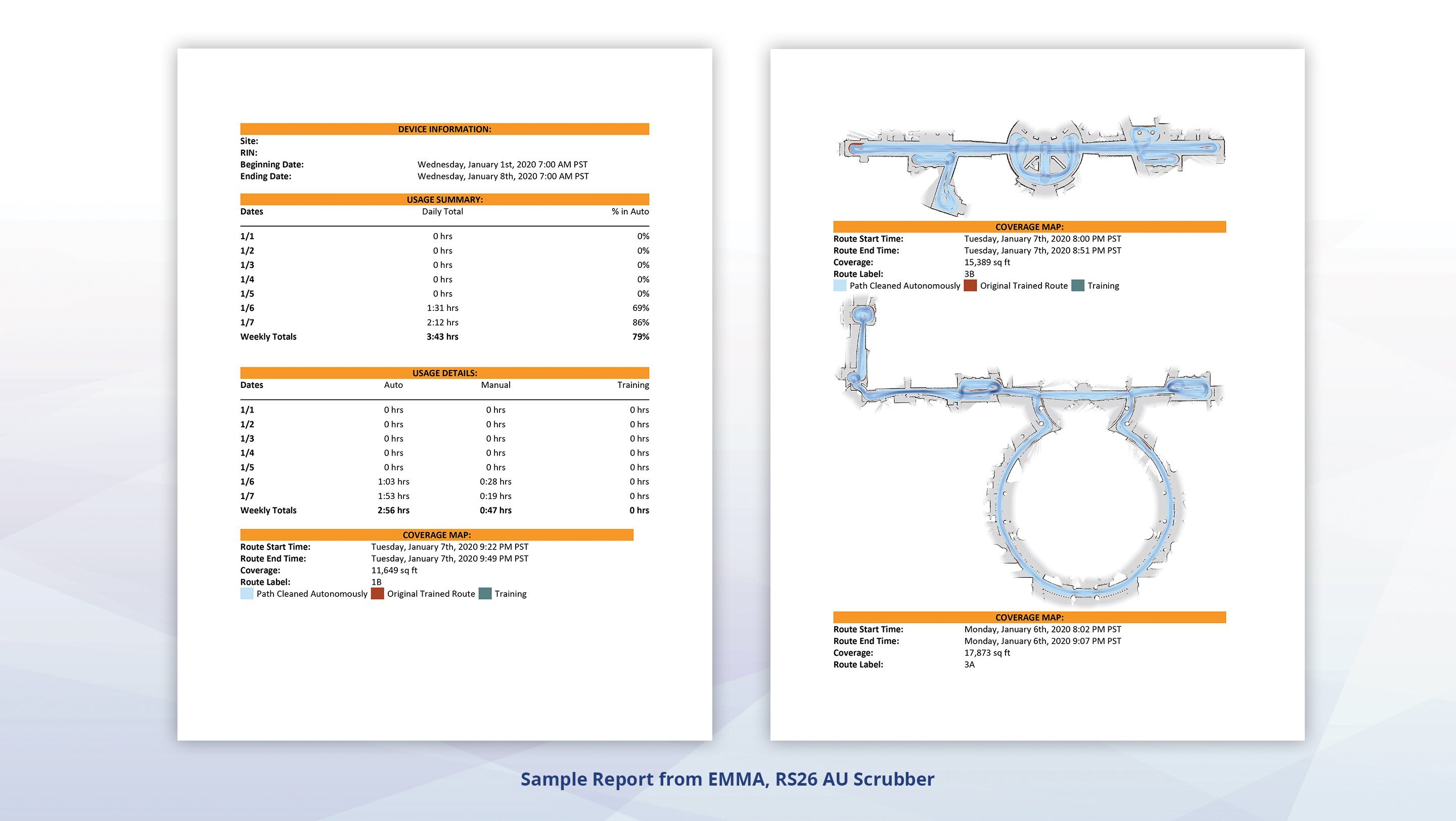 Facilities Directors, Maintenance Supervisors, and others with log-in credentials can access machine and usage data via computer or the mobile app. Using GPS, it is possible to pinpoint the exact location of each machine in the fleet, which offers a more detailed look into location operation. Other information that can be viewed and downloaded includes, time and date machine was operated, which staff person operated the machine, duration the machine was in operation, and square footage covered during that date and time. Also, historical usage reports confirm whether autonomous or manual mode was deployed and notification alerts are sent to advise of any component failure.
Co-Workers + Co-Botics
Personnel can set EMMA on its task and move on to finishing work that only a human can complete, such as cleaning detail, hard-to-reach areas, and enclosed spaces that an autonomous or manual industrial cleaner could never reach or clean adequately. EMMA's Brain Operating System® has built-in safety and obstruction sensors that allow for immediate detection of an obstacle. Upon sensing an impediment, the machine will pause and attempt to circumnavigate the item. If this cannot be completed safely and effectively, EMMA remains idle, takes a photo of the obstacle, and sends it directly to the phone which is paired with that machine. The vast number of artificial intelligence data filters enables EMMA to smoothly, efficiently, and effectively operate within unique and dynamic indoor spaces. Also, EMMA is designed to work safely and efficiently alongside employees while still being able to be used manually.
Your Team + EMMA
EMMA's design and state-of-the-art technology enables safe, efficient, and effective automated or manual cleaning. The choice is yours.
EMMA is most efficient when deployed in wide-open space and in autonomous mode, but the machine can also be operated manually. This means EMMA is the perfect "co-botic" automated scrubber and is an enhancement to a team of already hard working cleaning and maintenance staff. An investment in EMMA yields many long-term positive benefits, including an increase in productivity across the board as well as a conversion factor savings on FTE (Full-Time Employee Rates). Higher productivity is always important, but it is now more important than ever, particularly since the Centers for Disease Control has put in place new and stricter disinfecting protocols and guidelines for businesses and institutions across the United States. Maintenance and cleaning staff are now taxed with a new and long list of additional areas to disinfect more often and in more intense and detailed manners. These areas include: locker rooms, dining halls, dorm rooms, and high-touch locations like printers, telephones, desks, and door handles.
i-Synergy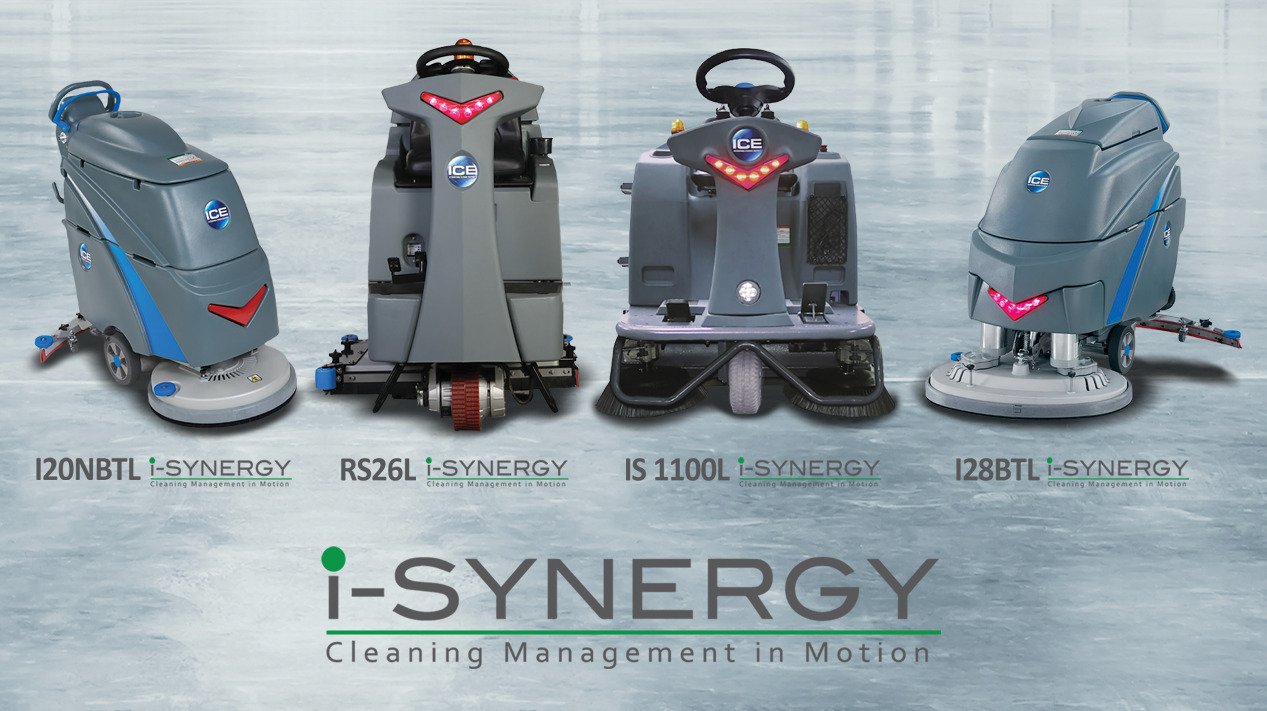 Besides EMMA, ICE's advanced range of walk-behind and ride-on scrubbers and sweepers offers excellent working efficiency and best-in-class cleaning performance. At the heart of all our machines is the unique, ultra-smart i-Synergy network, which allows you to receive and retrieve customizable, real-time data and user reports. All of this is right at your fingertips and from any device.
ICE's i-Synergy technology offers a total fleet management solution, which includes real-time remote fleet tracking and remote access to machine usage data. An additional benefit of i-Synergy is that proactive notifications are sent regarding warnings. When a component is failing, advisement alerts are sent via the app.
From the data i-Synergy gathers, compiles, and sends, you are able to make better decisions based on the Historical Usage Report. Some of these decisions include: minimizing and eliminating machine downtime, optimizing battery performance, and planning for and scheduling maintenance. i-Synergy is available from your Smartphone, and displays battery condition, charging details, as well as GPRS location and electronic boundaries.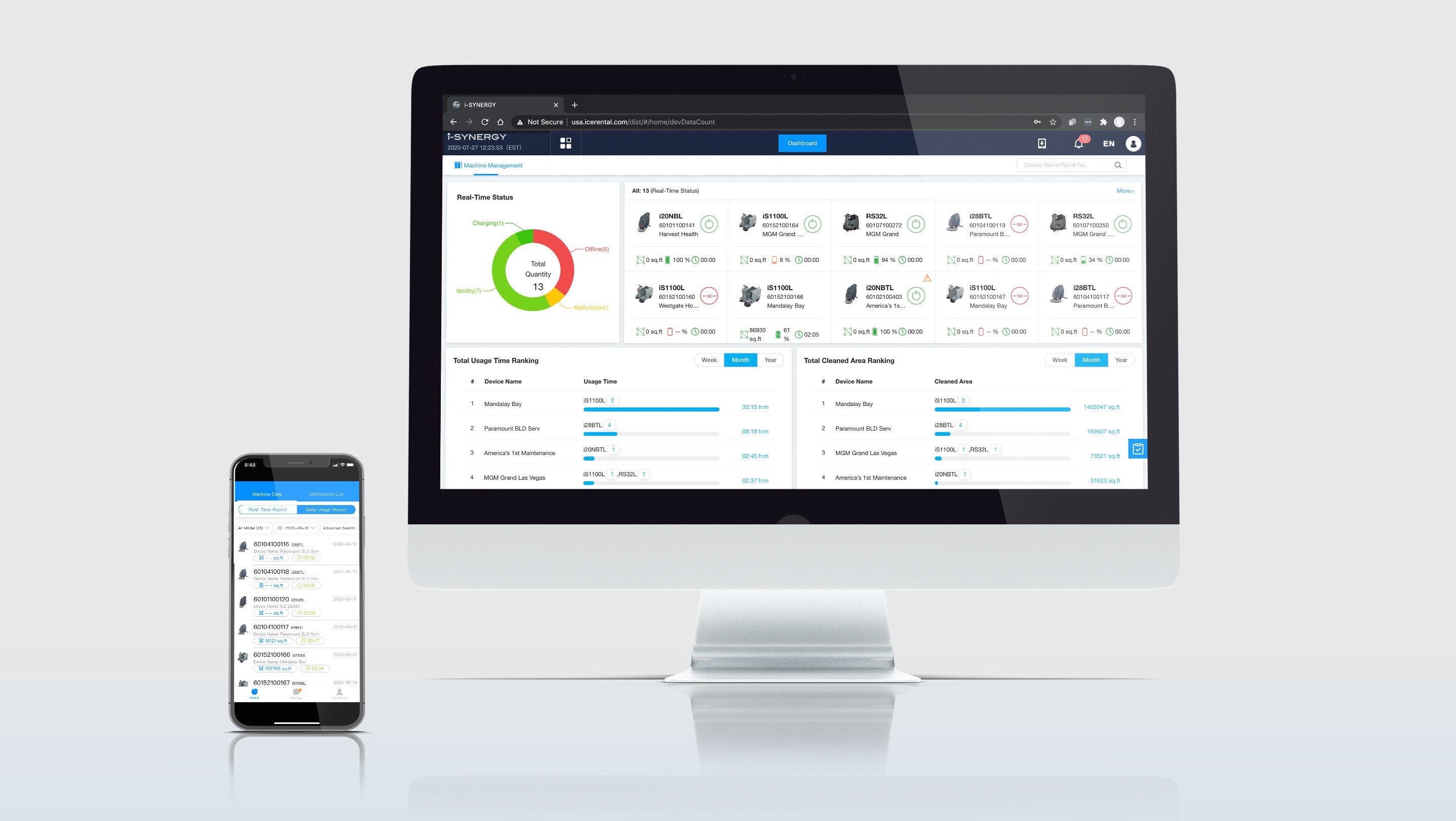 Lithium-ion Batteries: The Power Behind the i-Synergy Technology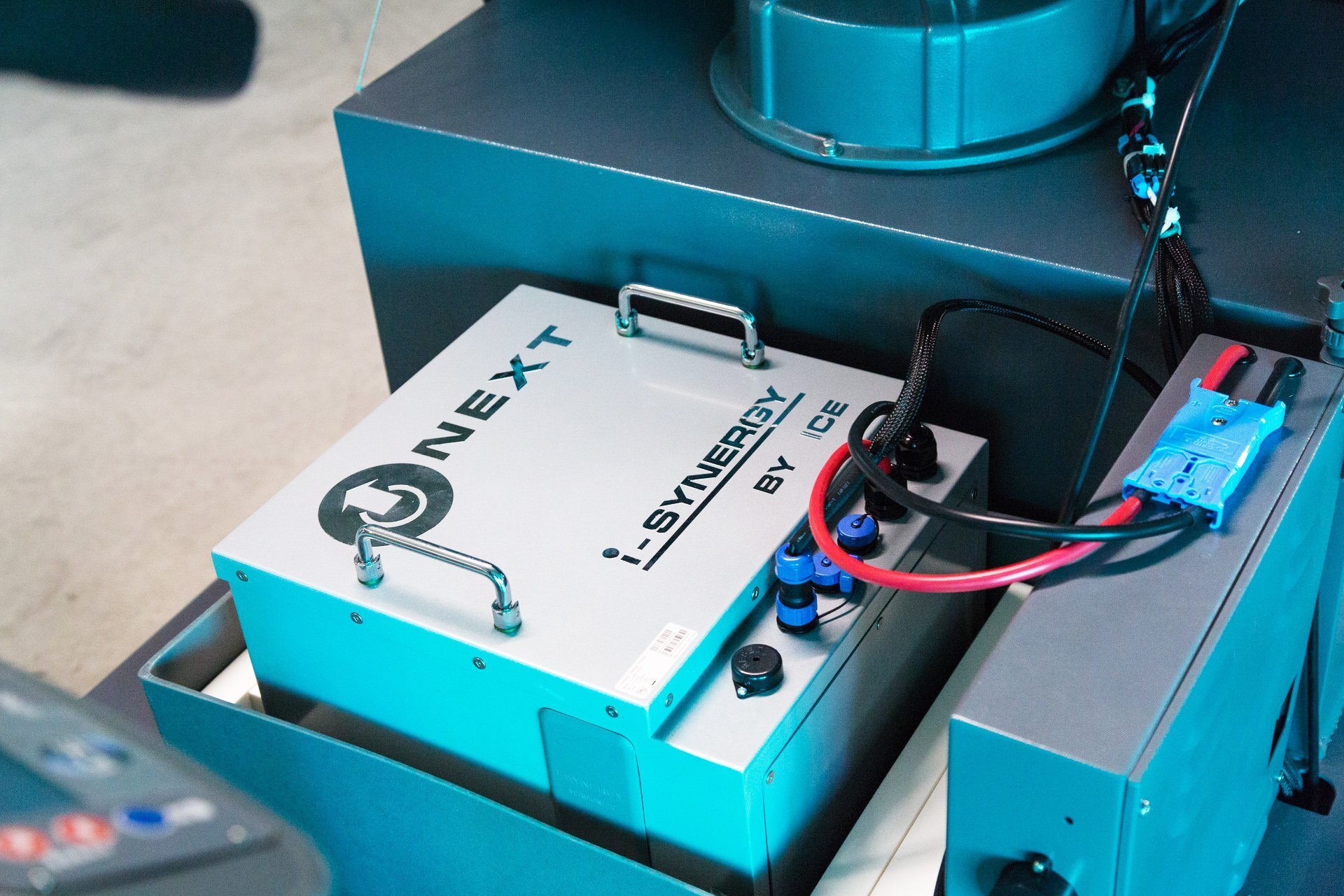 Another excellent benefit ICE offers is the lithium-ion battery (LIB), which is the safest and most reliable on the market. With LIB, your battery worries are over, and the LIB lasts 8 times longer than lead-acid batteries. Further, lead-acid batteries are the most expensive part to maintain in a machine such as this one, which is why ICE makes the best choices for its customers in offering the lithium-ion battery with EMMA. ICE also has the competitive advantage here as well, because we manufacture these batteries, which means you receive a price advantage. Beyond this, ICE still offers the best warranties in the industry on parts, travel, and service. This means a savings of time and money. Lithium-ion batteries offer five times better performance than traditional lead-acid batteries, providing a higher working efficiency, reducing overall costs.
Higher Quality. Safer. Longer Lasting:
Battery lifespan of up to 8 years
5x more performance than traditional lead-acid batteries
A non-hazardous solution
Fewer toxic materials
Reduced costs on battery replacement
Charge machine at any time without wasting charging cycles
Technology Separates ICE from our Competitors
Vision based technology
Requires no infrastructure modifications
Capable of navigating complex & dynamic environments
Simple & intuitive user-Interface
Eliminates collision damage & driver mistakes
Ensures consistent & reliable floor care performance
Allows employees to focus on higher value tasks
Adding this top-of-the-line collaborative-robotics machine to your workflow ensures your staff now has the time to meet and exceed new disinfecting guidelines to keep employees, students, and visitors safe and healthy. Also, your employees will be more engaged and can complete higher-value and intricate tasks, while EMMA completes wide-area cleaning in autonomous mode.
Solutions for Every Institution 
Being the industry leader, ICE offers an array of solutions to your institution's industrial cleaning machine needs and EMMA is just one of the many. We are proud of the blue-collar ethics we provide coupled with white-collar, practical technology. If the EMMA is not for you at this time, more excellent and cost-conscious cleaning solutions can be found within our i-Synergy line of equipment. When you are looking to add cutting-edge and practical technology to your fleet of cleaning machines, look no further than ICE for scrubbers, sweepers, and vacuums, as well as extractors and speciality products. Many can be operated autonomously or in walk-behind or ride-along mode. The options are vast because ICE knows that colleges and universities across the United States must be mindful of budgets and therefore must wisely allocate and maximize every dollar.
Knowing these constraints, the ICE team has developed a line of inventory that offers a solution to the equipment needs of every campus and every budget. We have developed the most practical and innovative, effective and efficient cleaning machines on the market. ICE delivers  the best product line, and we are always researching, developing, and improving our products and services.
Call an ICE representative today at 616-389-0730 to schedule your demo and you'll be on your way to adding practical solutions and innovative technology to your organization.