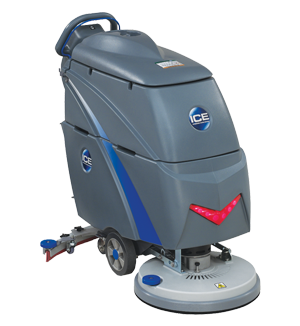 I20NBT has an oversize tank capacity of 15 gallons, specially designed for professionals like cleaning contractors. The die-cast aluminum brush deck and curved squeegee maximizes its superior durability. Up to 99 pounds of pad pressure ensuring top cleaning performance in its category.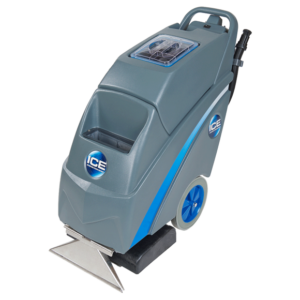 The iE410 self-contained carpet extractor is the perfect combination of our industry experience and knowledge. It simultaneously balances 100 psi of solution pressure, chevron-brush agitation, and powerful vacuuming for deep carpet cleaning. This compact extractor is built to last with a stainless-steel vacuum shoe and stainless quick-disconnect spray jets and a 5-year motor warranty. Its 2-stage tangential vacuum motor leaves carpet clean and virtually dry. With 10″ stair-climbing wheels, the iE410 maneuvers and transports well.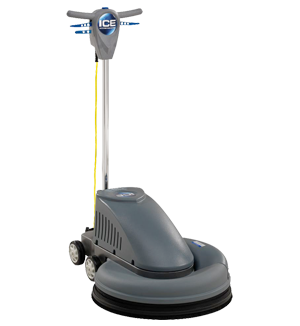 The IB2000 comes equipped with dust control capability. Incorporation of an induction motor creates a longer lifespan and less maintenance compared to DC motors used on other burnishers. The IB2000 is the burnisher for restoring floors to a greater shines!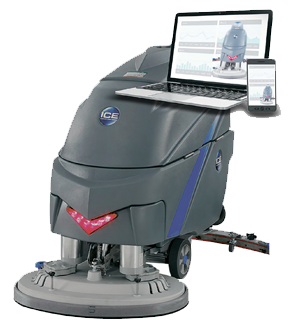 i-Synergy collects operational data from cleaning machines and transmit the information to ICE's server. The data collected with i-Synergy reports on the lithium-ion battery, vacuum motor, brush deck motor, trans-axle, and many other electrical components. Data collection and reporting records at least once every minute when the machine is in use and during battery charging. i-Synergy will send notifications instantly to the ICE server in case of any malfunction. ICE maintenance personnel will receive an SMS within minutes from the ICE server for immediate servicing of the machine.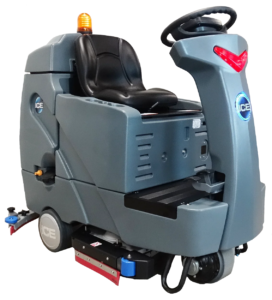 The RS26+ and RS32+ rider auto scrubbers are fully automated with one button programmed switch for a training-free operation. 3 setting pad pressure of up to 165lb allows maximum cleaning efficiency. Digitized (1% to 5%) solution mixing system allows solution composition change in seconds. Its compact design allows access to narrow aisles with maximum maneuverability.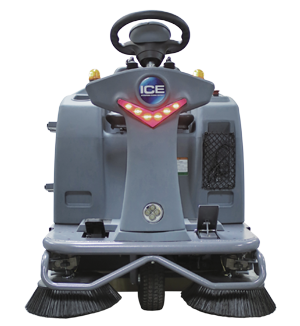 Superior sweeping and efficient dust control describes the iS1100L+ rider sweeper. This battery-operated sweeper features both one or two-side brush operation based on the application. The user-friendly control panel, multifunctional steering wheel, and adjustable seat provide simple and comfortable operation.