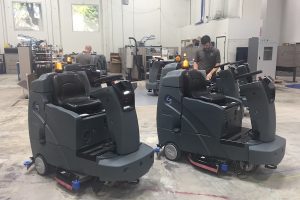 Headed by the computational neuroscientist Eugene Izhikevich, the company maintained a low profile at Qualcomm's San Diego headquarters until 2013, whenBrain Corp. emerged in the collective glow of the Obama Administration's brain initiative. The startup moved off-campus in 2014, with $11 million in funding from Qualcomm Ventures.
Like many startups, Brain Corp. meandered quite a bit as it sought to find a way to commercialize its technology, with substantial turnover among its ranks.
But now Brain Corp. is rolling out its first commercial product—a "brain-enabled" commercial floor scrubber that is part mini-Zamboni and part Roomba. As an example of advanced AI technology, it's not particularly sexy or glamorous. But as a pragmatic industrial product, Brain Corp. stands to gain valuable experience toward the development of autonomous, machine-learning systems and self-driving cars.
"The area we're focused on initially is the retail industry—big box retailers, malls, and airports," said Phil Duffy, who joined Brain Corp. two years ago as vice president of marketing and product development. By working with several manufacturers of commercial floor cleaners, including International Cleaning Equipment (ICE) of Holland, MI, Duffy said Brain Corp. has developed a "brain module" that can be installed on manually operated floor scrubbing machines like the ICE RS26.
Save
Save
Save