October 10, 2016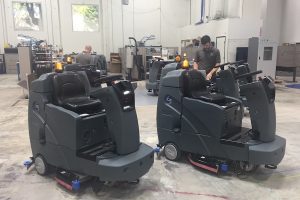 San Diego's Brain Corp. has a vision for developing the kind of technology that could some day be used to operate self-driving cars. Before getting out on the open road, however, the company wants to show its self-driving system can clean up a mess in aisle 3 at Jimbo's. As an independent startup backed by the corporate venture arm of Qualcomm (NASDAQ:
QCOM
), Brain Corp. began...
September 10, 2016
Brain Corp's partnership with industrial equipment manufacturer, ICE, will introduce a breakthrough of new technologies, including self-driving vehicles
SAN DIEGO--(
BUSINESS WIRE
)--
Brain Corp
, a software technology company specializing in the development of intelligent, autonomous artificial intelligence (A.I.) systems for self-driving vehicles (SDVs), today announced its partnership with International Cleaning Equipment (ICE). A global company headquartered in China, ICE develops specialized equipment for...
March 2, 2015
News Release Indianapolis — International Cleaning Equipment USA (ICE) announces the addition of Rob Glassmeyer to their company's leadership team. He is the organization's new President and will manage sales efforts while working with distribution management in all floor equipment programming. "Rob is the perfect fit for ICE and everything our company is about," said Tom Vanderbie, Partner and CEO of ICE. "He has massive amounts of experience and knows more about the industry and distribution than anybody. We can't wait...